Ukrainian "Peacock" flew to Las Vegas!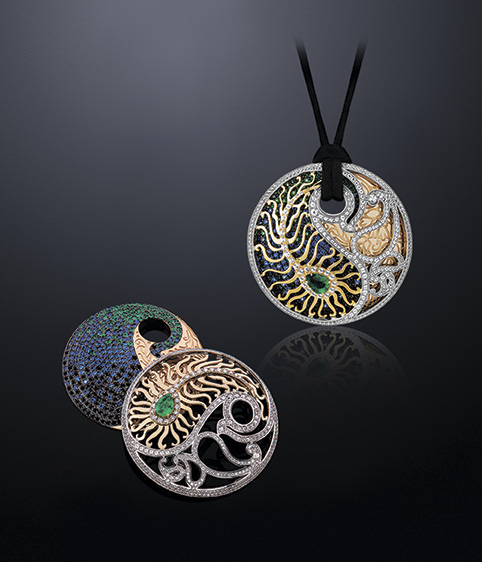 SWAROVSKI GEMSTONES presented a unique pendant-transformer of ART VIVACE jewelry at the main jewelry event in America.
JCK Las Vegas-2017 is the leading annual trade event of the jewelry industry, uniting more than 30,000 of the most influential professionals in the world. The extensive collections of jewelery, precious stones, watches and services of JCK make it the main place for acquaintance with the novelties of the jewelry market. Experts say that the future of the jewelry industry is being formed here.
At the Show there is a presentation of the multi-brand SWAROVSKI, which is famous not only for the unique technology of artificial crystals, but also for processing natural stones that are used by the leading Jewelry Houses of the world. This year, Swarovski presented its new collection of precious products, as well as the work of the winners of the international competition for jewelers' designers SWAROVSKI GEMSTONES. Among them - a unique pendant-transformer "Peacock", created by the Ukrainian company ART VIVACE jewelry.
Pendant sketches were recognized unanimously by an international jury, led by famous designer Stephen Webster at the Hong Kong Jewelery Show. "Peacock" conceptually conforms to the theme of the competition "Talismans & Symbols", combining a deep sacred meaning, emotional message and modern design.
- Hundreds of companies from all over the world are participating in the SWAROVSKI competition, and this is really the victory of Ukrainian jewelry art - to become the best among the professionals of the top level, - Irina Seraya says, head of ART VIVACE jewelry.
Our "Peacock" won the nomination "Love, Luck & Protection" and is presented in the catalog of new World Trends 2018 from Swarovski Gemvision "Talismans & Symbols", where accent on talismans, signs and symbols that express the entire palette of our emotions - love , gratitude, tenderness, affection, friendship and much more. The composition of the pendant is inscribed in a circle - a symbol of integrity, buta (almond-shaped pattern with a pointed bent end) - a symbol of fire and a protective talisman, and the peacock's feather brings love, happiness and joy. The item is also distinguished by innovative design: it is an original transformer, composed of two parts - the upper lace and the bottom integral ornamental. It can be worn each part separately and together. Now this trend is very popular and in demand in the jewelry fashion.